Keeping it in the family: tips to creating a racing dynasty
I suppose it shouldn't be a surprise that racing is very much a family affair. Trainers pass on their businesses to sons and daughters, whilst siblings ride against one another before setting up as rival trainers. Yet it appears to happen more frequently in our sport than any other; aside from Bobby and Jack Charlton, no footballing family dynasties spring to mind for example.
Perhaps that family connection has something to do with the all-encompassing lifestyle that racehorse management requires, from roping in a brother to lead up at the races, to the stretch of morning and evening stables each day. Yet the number of family racing dynasties is impressive, and bears testament to a lifestyle that has few parallels.
Here are a few racing families from the last 100 years.
The Walwyns
The scion of British racing dynasties must surely be the Walwyn family. Fulke Walwyn was, until 2012, the most successful ever trainer at the Festival, with 40 winners which included 4 Gold Cups and 2 Champion Hurdles, alongside a clutch of other big races winners, including a Grand National with Team Spirit in 1964. In all, he trained over 2,000 winners.
Born in 1910 to a thoroughly horsey family, he grew up under a father who was Master of the Monmouth for 10 years, and part of a leading show jumping family. No surprise therefore, that Fulke became leading amateur rider in the '32-33 and subsequent seasons. After winning the Grand National in 1936 on Reynoldstown, he turned pro, but that venture was short-lived. A bad fall at Ludlow in April 1939 put paid to a further riding career and he took up training. Whilst the early years were interrupted by the War, he set a formidable pace when peace broke out, becoming Champion Trainer in '46-47, and the two subsequent years, from which the highlights were a couple of Festival handicap victories and a first King George of four, with Jack Tatters.
Gold Cups with Mont Tremblant (1952), Mandarin (1962), Mill House (1963) and The Dikler (1973) were all part of five Champion Trainer titles, but he was a master of the staying chaser, as illustrated by an unparalled record of 7 Hennessys (now Ladbrokes Trophy) and 6 Whitbreads (now Bet365 Chase). And no-one will forget the remarkable win of Mandarin in the 1962, when Fred Winter steered the horse to victory despite the bit breaking two fences in. Where most riders would have pulled up, Winter continued a further 3 miles, winning by a short head. Oh, to have had TV coverage for those days...
Fulke trained winners on the Flat too, his most successful season winning 28 races.
Fulke's twin sister was Helen Johnson Houghton, no mean rider in her own right. Educated at home after her mother died, she lived with an aunt in Cheshire after her father remarried, to one of her governesses! There she married Gordon Johnson Houghton in 1937 and started training horses with him. They moved to Blewbury near Lambourn in 1945, from where she became the first woman to train a Classic winner, in the 1956 Two Thousand Guineas, with Gilles de Retz. Hard to believe now, but at the time, the horse was entered under a different name, as women were not permitted to train horses. Twenty years later, Helen was elected to the Jockey Club. She died in 2012 at the splendid age of 102.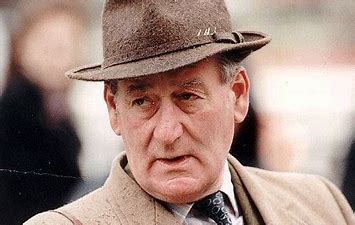 Many folk thought that Peter Walwyn was a brother of Fulke, but he was actually a first cousin, and 23 years younger at that. With Fulke to emulate, a path into racing seemed a natural choice after Charterhouse, and after a spell as assistant to Geoffrey Brooke, he took on the licence for Helen whilst she wasn't permitted to hold it. He established his own business in 1960 and moved to Seven Barrows five years later, whence he trained the winners of over 1,900 races, and became Champion Trainer in 1974 and 1975, the year that Grundy won the Guineas, Derby, Irish Derby and King George & Queen Elizabeth Diamond Stakes in that epic tussle with Bustino. He died in 2017.
The Baldings
Toby and Ian Balding were highly successful brothers, who both trained, Toby largely over Jumps, and Ian on the Flat. The Flat side of the business is continued even now by Andrew Balding, whilst his sister Clare is of course the successful TV presenter.
Born in the USA, their father was a polo player, but in 1945 they returned to the UK, where Toby was sent to Marlborough, and Ian followed 2 years later. Not from an aristocratic family, their grandfather had had a good eye for a horse, and made money from that talent. When Toby's father Gerald (hence the name Toby to avoid confusion) died in 1956, Toby was left in charge of the stable at Weyhill in Hampshire at the tender age if 21. That time in the USA though had served the family well, with connections like Jock Whitney, which afforded Toby the chance to train good quality horses across bot codes over a period of 50 years.
Two Nationals, with Highland Wedding (1969) and Little Polveir (1989), two Champion Hurdles with Beech Road (1989) and Morley Street (1991) and that memorable Gold Cup with Cool Ground in 1992 are stand-out performances, but he was as versatile on the Flat, occasionally upstaging his younger brother.
His legacy though has been in the mentoring of young riders through the ranks to stardom. Adrian Maguire and AP McCoy were both proteges who reached the very top of their profession. He died in 2014. Sadly, the stable at Weyhill was discontinued, after Toby's daughter Serena and son-in-law Jonathan, couldn't pay a go of it.
Ian, by contrast, continued his education after Marlborough and Millfield, going up to Christ's, Cambridge to read Rural Land Management, where he was awarded his blue in rugby. But he too was destined for a training career from the off. Serving as assistant to Peter Hastings-Bass at Kingsclere, he took over at 26 when Peter died, marrying his daughter, Emma. Emma's brother is William Hastings-Bass, now Lord Huntingdon, who trained for 20 years until 1998 and their grandfather was the renowned jockey Aubrey Hastings of Brown Jack fame. Two thousand winners later, Ian retired in 2003 with a Champion Trainer title to his name in 1971, and a legacy of great horses headed by Mill Reef, Lochsong, Selkirk and many more.
He was no slouch with jumpers either, regularly sending horses to win good quality races like the race now known as the Greatwood and Wincanton's Elite Hurdle. And in his late forties and early fifties, he also rode his own horses in Point-to-Points.
The Mullins dynasty
No analysis of racing families would be complete without a reference to the Mullins family. Paddy, father of Tony and Willie, was a highly successful trainer under both codes in his own right, immortalized by the exploits of Dawn Run, the only horse to have won the Champion Hurdle (1982) and Gold Cup (1984). But even more remarkable, Paddy and Maureen's five children have all ridden winners, and forged a career in horseracing.
Willie needs little introduction. He is the dominant force in Irish National Hunt racing, and was amateur champion in Ireland for six years before embarking on training in 1988. He's enjoyed a remarkable 71 winners to date at the Festival, most recently with 7 winners headed by Al Boum Photo at last year's meeting. If you were to keep a track of your bets on Mullins horses at Cheltenham, I'd wager you'd be ahead.
Willie's son Patrick is the yard's amateur, although a professional in all but name. He's been Champion Amateur in Ireland 12 times to date, riding a remarkable record 74 winners in 2012.
Willie has four siblings. George runs a successful horse transport business having ridden in Point-to-Points. His son Emmet rides as a professional currently. Sandra McCarthy, Willie's sister, rode winners on the Flat and now trains a small string with her husband. Brother Tom also trains in Goresbridge, Co Kilkenny, with a current season tally of 11 winners for 93 runners. Better known brother, Tony rode very successfully under Rules, but sadly is best known in this country for losing the ride on Dawn Run to Jonjo O'Neill. He now trains too.
Tony's two sons, David and Danny have both ridden under Rules. David has ridden over 200 winners , including a Punchestown Gold Cup and the Grand National of 2016 on Rule The World, largely for his uncles Willie and Emmet, but retired earlier this year after some disillusion with the grind of chasing rides. Danny has ridden nearly 300 winners to date including a Bobbyjo Chase , but his most valuable scalp to date is the Grand National Trial Hurdle at Far Hills in the USA 4 years ago, a £200,000 race.
Seamus Mullins, successful Wiltshire trainer, is from the same family. Paddy was his uncle.
Scudamores - fifty years of Jump racing
Closer to home, two Scudamores live within easy reach of Knightwick. Best known is Peter, champion jockey eight times in 1981-2, and '85-92 inclusive. At the time, he set a record for the most career wins by a rider at 1,678, and was the first rider to break the 150 winners in a season barrier, a ceiling which is rarely beaten even now, although McCoy's exploits have long exceeded the career total. Peter is now assistant to his partner Lucinda Russell in Scotland.
Peter's father was of course Herefordshire rider Michael, one of the toughest riders of his generation, who won the Grand National on Oxo in 1959, and the Gold Cup on mare Linwell in 1957, amid 494 other winners. He died in 2014.
The next generation is continuing the Scudamore dynasty however. Oldest son of Peter, Tom, has ridden over 1350 winners, including Venetia Williams' trained Royale Pagaille in last weekend's Peter Marsh. He's topped the 100 winner mark in each of three seasons - '13-14, '14-15 and '16-17, and topped season's winnings of £1.3m+ in each of 4 seasons, ranking him among the UK's top riders.
Tom's younger brother Michael, trains at Bromsash, near Ross-on-Wye. Although a modest sized stable, they've trained over 150 winners already, including a Welsh National with Monbeg Dude, and a first Festival winner in 2015 with Next Sensation.
Moores - three generations of talent
No look at the British racing scene would be complete without a glance at the Moore family, a dynasty for the South-East. At the head of affairs, the late Charlie Moore took out a permit in 1961, and plundered modest races, especially around Plumpton, Fontwell and Brighton over the next 36 years. He revelled in buying cheap horses discarded by others, and making winners of them, consistent with his former career as a used car salesman. Sadly he died in 2000.
The business, however, was picked up by Gary, his son. Gary was never more than a journeyman jockey, but has found his forte training, and is single-handedly flying the flag for Jump racing in the South-eastern counties, where once a centre of excellence has dwindled to very little of note. His near 1,000 winners to date have included some at the very top of the sport; Sire de Grugy in the Champion Chase of 2014 for example, and his runners in big handicaps are not there for the outing. The Triumph Hurdle of 2020 was his for the asking but for a mistake at the last that decked his rider, son Jamie.
The next generation is also steeped in the sport. His three sons have all become jockeys. Ryan needs little introduction, being retained by Aiden O'Brien and the Coolmore team. He's been Champion Jockey three times (2006, 2008 & 2009), and is intyernationally recognized as an intuitive horseman and a highly rated jockey for the big occasion. Jamie is rising 36 so nearing the end of a distinguished career over Jumps, with nearly 800 winners to his name, inckluding a memorable Welsh National in 2016 on Moutainous, and a fruitful partnership with his father's Sire de Grugy, winner of 2 Tingle Creeks (2014, 2015) and a Champion Chase (2015).
Younger brother Josh is in his 14th season, having ridden some 250 winners, including a Betfair Hurdle.
Sister Hayley, an amateur rider in her time, is now a presenter on Sky Sports Racing.
Of course, there are many more families, some with strong Pointing connections. This small sample only illustrates that expertise is often carried down through generations. As an outsider, it can be a daunting process trying to break into such a close-knot group, but once in, you may be there for generations to come.